Wow. Just...wow. Grad school grabbed me by its teeth, chewed me up like crazy, and then spat me back out, an exhausted and discombobulated pile of....uh...student. Lots of stressing and mini-freakouts have occurred over the past 3 months or so -- new environment, new living situation (the first time I'm living on my own, actually. I always dormed or stayed at home) -- but at the end of the day I wouldn't want it any other way. I love learning, and I love the fact that at the end of this, I'll have a grad degree in something I'm passionate about. Whoohoo!
But, Christmas break has allowed me a chance to take a breather. This means, BLOGGING!!! It will be a Diamine inkfest with snail mail art thrown in, and whatever else pops into my head.
Let's start off by looking at one of those Diamine inks:
Havasu Turquoise was released waaay back in Fall 2009. This review is long overdue (sorry, Diamine Ink company! Here you go!).
I did something a bit different than I usually do for ink reviews, which I'm going to do from now on. I included samples from different types of paper to show how the ink fares in terms of drying time on various papers; you can see a closeup of them below the review. Below
that
is a closeup of the color swatches.
Color looks lighter than it actually is; but for the most part, very true to life.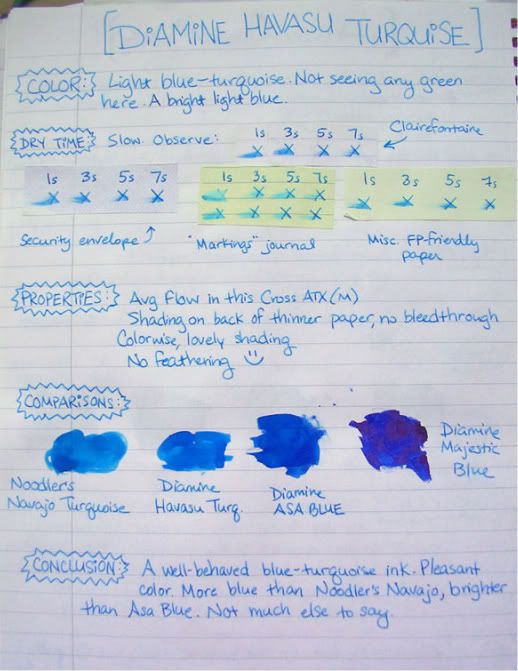 In case you can't read the handwritten review:
COLOR: Light blue-turquoise. Not seeing any green here. A bright light blue
PROPERTIES: Average flow in this Cross ATX (m)
Shades on the back of thinner paper but no bleedthrough
Colorwise, lovely shading
No feathering :)
CONCLUSION: A well-behaved blue-turquoise ink. Pleasant color. More blue than Noodler's Navajo, brighter than Asa Blue.
Closeup of drying times on different paper types. I didn't bother to do any color-correction, so the ink looks darker than it is:

Closeup of color comparisons, very obviously color-corrected (:P) :
As mentioned above, Noodler's NT, though not by ANY means "green", definitely has a stronger greenish tinge than Diamine HT; it's more visible in real life.
Both are bright blues, but Diamine HT is darker and bluer.
Lighter and brighter than Diamine Asa Blue and Diamine MB
Diamine Majestic Blue (Diamine MB) has, in the photo, some odd splotches that kinda make it look like a petri dish. This is because of its near-legendary saturation: Diamine MB is so highly saturated that light bounces off the darkest parts of your writing (or, in this case, ink splotch) and creates this effect where it looks like the light reflected back is almost
red
, not blue. Diluting your MB with some water is a commonly used solution, assuming you don't like the reflect-red effect (I don't, personally).
The above are the only two turquoises I own, but out of them I prefer the Noodler's. I feel like the Noodler's NT color is more interesting with its green hue, as opposed to just being a pretty shade of blue.
So what's your favorite turquoise?