While I was sick, I wasn't
completely
useless. I made some nice envelopes out of a Macy's catalogue and scrap paper (which I'll show in the future), and did bit of -- well, a lot of -- watercoloring. I broke in my Faber-Castell watercolor pencils as well as my Winsor & Newton watercolor tubes, and spent my sick time unwinding by painting scenes inspired by our Caribbean cruise.
NOTE: W&N watercolors are extremely thin and transparent, and while this creates a neat effect in real life, it's incredibly tricky to capture on a computer monitor. Some scanned better and some photographed better. Some I had to adjust, others I left alone. So that's why the pics seem to vary dramatically in terms of brightness and such.
First up we have a green sea turtle. We saw a LOT of them at the turtle farm/breeding center on the Grand Cayman Islands, and got to hold the baby ones :) While there, I did some sketching in my
mini Rhodia pad
, and used the rough sketches as a reference when I painted this guy: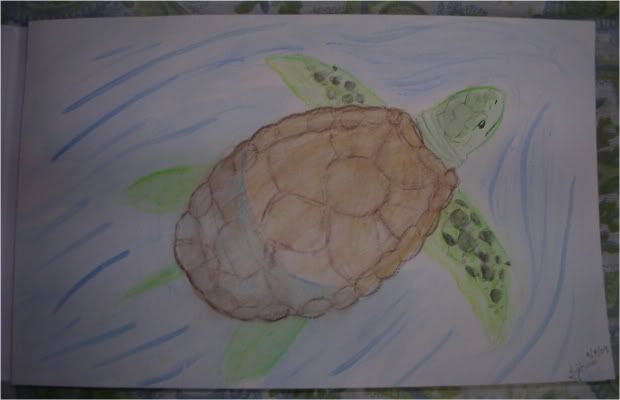 For some reason, the pale, washy blue in the background was almost impossible for the scanner and camera both to pick up. It's more vivid IRL.
Next up is a quintessential tropical sunset. Sorry...I had to ;)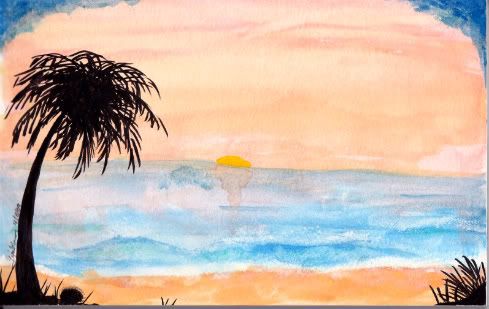 I did the palm tree/grass with a
Sakura Brush Pen
.
I had a lot of colors left over after painting these two and didn't want to waste them, so I randomly painted a shell, then added a hermit crab hiding inside :)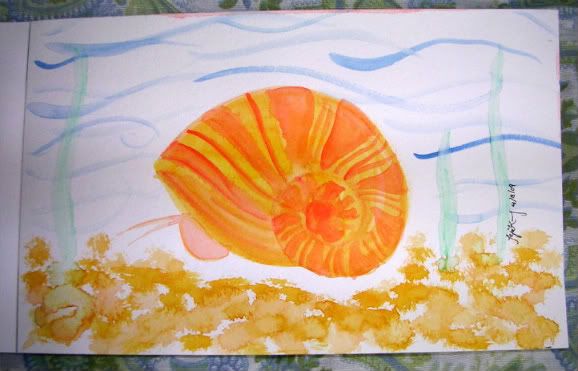 And the final one: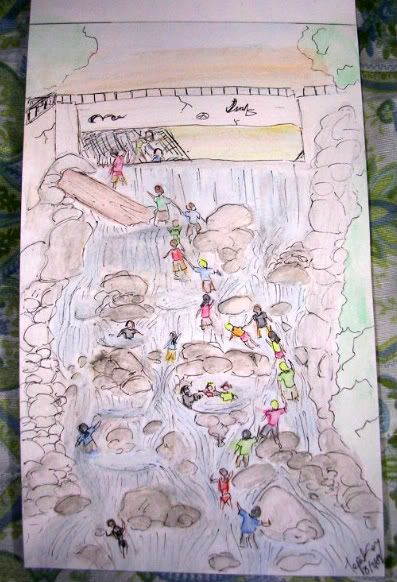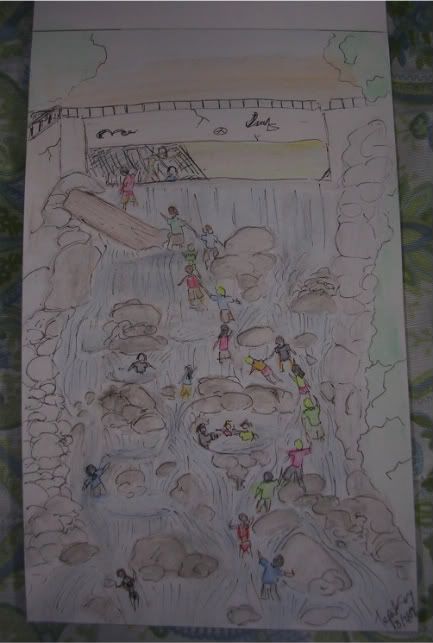 I'm posting both versions, because I'm not sure which one captures the colors best (Both do a sucky job).
This depicts Dunn's River Falls, located near Ocho Rios, Jamaica. This is actually how we scaled the Falls: By holding hands in a line and weaving our way up! It made sense, since people stumbled occasionally, or lost their footing, and they had someone (or two people) to help them regain balance. Though, sometimes we needed to use both our hands to get up the rocks. This style was definitely inspired by Kate T. Williamson's A Year in Japan postcard book, which I received and
blogged about yesterday
(In a lot of the postcards, the paintings are rather simple and outlined in black). My mom and sister liked this one; they thought it was cute.
I had fun making these; I'm planning to do a couple more.