Art Supply Review: Sakura Micron Art Pens
INTRO
Portable, reliable, permanent. Chances are, if you're someone who's constantly on the go and looking for art pens, those are the three top factors which appeal to you. Sakura Micron pens are an excellent alternative to the messier (though somewhat more professional) dip pens, and far more travel-friendly. These are great for beginners to the pen & ink medium as well as professionals who don't want to bother with the hassle of cleaning and taking care of dip pens. Just uncap, post, and off you go :-) Though I love the old-fashioned feel of dip pens, Sakura Micron art pens are, for me, the next best thing.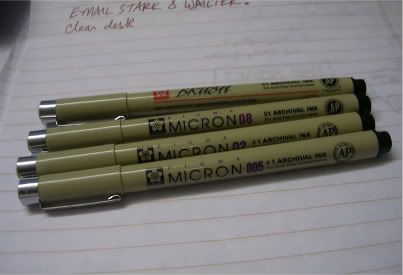 CONSTRUCTION
Sakura Micron art pens come in a variety of sizes (in terms of line width; the pen bodies themselves are pretty much the same size). This is incredibly convenient; all you have to do is pick a couple of sizes, and you're good to go! No need to bother switching nibs mid-drawing to vary your line thickness.
The caps have firm, springy clips which seem very reliable, and the caps themselves are designed to post. Because the pens are so lightweight, balance is not really an issue. Speaking of size and balance, these pens are very slim, and pretty small. I have small hands and thin wrists, so for me that's great, but those of you with larger hands might want to skip over these.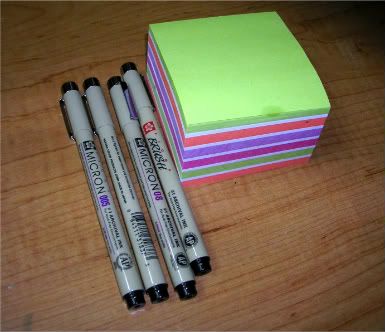 How big is it really? Comparison with a cube of Post-it notes.
It's hard to tell because the tips are so small, but I think that the smallest width (.005) is a rollerball while the larger ones are felt tips.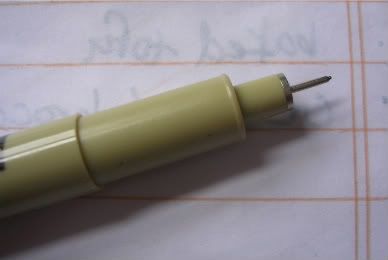 The .005 pen tip.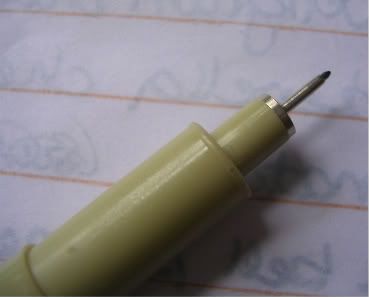 The .08 felt tip.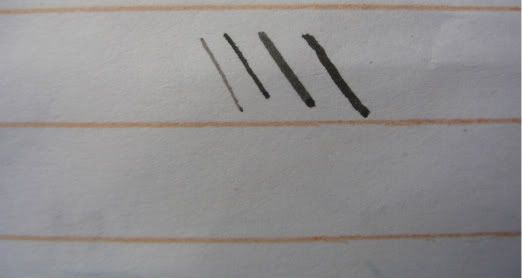 In order: The .005 tip; the .05 tip; the .08 tip; and the brush pen, all on standard American wide-ruled paper.
INK AND PERFORMANCE
The patented ink contained in these acid-free pens is both waterproof and archival. Translation: Whatever you write or draw with these pens will last a very, VERY long time. Sweet.
The fact that these pens are waterproof is a beautiful thing; it makes them perfect for use with watercolor drawings, especially if you aim to get that "washy" anime look: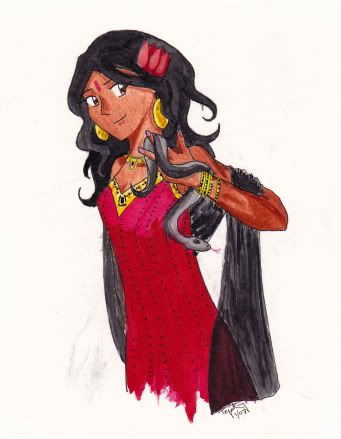 Ok, so it could definitely be "washier" (I tend to paint rather thickly), but that's besides the point. I sketched the drawing out in pencil, outlined it with the Sakura Micron pens, and then watercolored over it. Though they do sell waterproof drawing ink, these pens are fantastic if you're traveling or have very limited space, since they don't require as much room as a bottle of ink, several pen bodies, and a scattering of nibs that you can lose/knock into the trash (I lost one of my favorite dipping nibs :( so this sounds pretty nice to me).
The nib sizes range from .005 to 0.5 -- I have .005, .02, and .08 (which is the second thickest next to 0.5). The fact that these pens come come in ultra-thin widths makes them fantastic for detail work, and in this regard they outdo the dip pens in terms of reliability and control.
Not that you have to choose between dip pens and markers! By all means, combine the two; you can get some amazing results by combining mediums, which I wholeheartedly encourage. Here's a pen and ink I did using dip pens for the thick to medium lines, and markers for the finer details.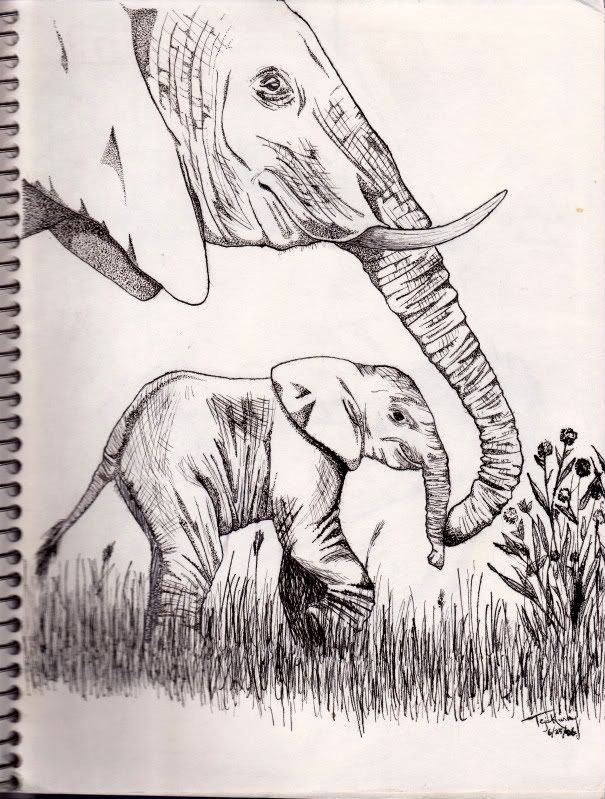 The
goth picture
I'm currently working on consists almost entirely of Sakura Micron pens.
CONCLUSION
In conclusion, if you are a pen & ink artist, you NEED to own these pens. Kidding, kidding. But I do recommend them, both for those who are starting out with pen & ink drawings and want to experiment before investing in dip pens/drawing ink, or professionals who would like the ease and comfort of just switching pens to vary line thickness instead of switching nibs (which, you have to admit, can get really annoying). Also you don't have to worry about having ink drops fall onto the paper while you're drawing, which ALWAYS happens to me. I tend to be a bit messy D:
Now, they
are
a tad expensive, being more than a $2 each. But if you are serious about the visual arts, it's a great investment :-)
PURCHASING SAKURA MICRON PENS
You can buy these pens at most art stores, and if there isn't an art store by where you live, never fear! That's what the internet is for.
www.jetpens.com
stock them up, and if you buy $25 or more, you get free shipping. Shiny.
www.dickblick.com
also has them, for slightly cheaper prices (and they discount if you buy in bulk, though I think this is more for art teachers). I'm not sure about shipping costs, though, as I've never purchased from them.
Upcoming:
Staples Bagasse paper review
Staples Bagasse paper giveaway