Aaaaaand here's the second half!
INTRO
The graph pad I received for review from Exaclair's Karen Doherty (who is an amazing person to work with, btw) is decidedly smaller than the lined one; however, I find myself eager to use it more -- both due to the smaller ruling (and y'all know I have a thing for small rulings...the more lines on the paper, after all, the more words I can fit! Very economical...plus I like to write small) and the nifty size (roughly "5 X "4.5) that fits nicely in my purse. However, the gridded pad comes in all sizes -- the one I happen to have is teeny tiny. In fact, I saw a whole Rhodia display at Paradise Pen the other day...and am kicking myself for not getting the full-size gridded pad! Yup, I'm in love.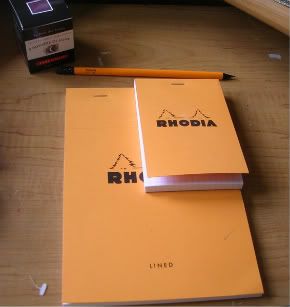 CONSTRUCTION
What's nice is that even though the pads are different sizes, they all have what seems to be the same amount of pages inside. This is refreshing, as it keeps me from feeling cheated of paper just because I wanted to purchase a smaller size.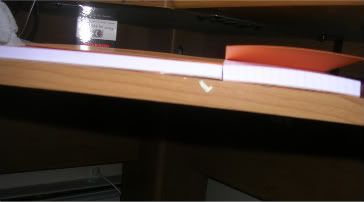 The back of the smaller pad is different than the back of the larger one: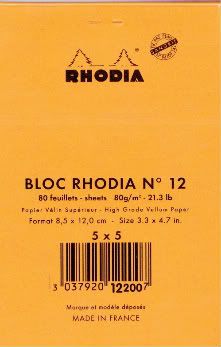 No measurements here; just the facts. Don't know what the 5 X 5 is about, though.
Time for a size comparison: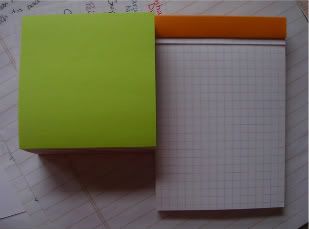 How big is it really? Compared to a stack of Post-It notes.
Like I said, the perfect size (IMHO). I'm always on the lookout for pads that I can slip into my purse for jotting down notes/addresses/memos/etc, not to mention doodles when I'm bored, so this is wonderful.
Like its big brother, this pad sadly can only bend so far back, prohibiting you from really using the back of the pad (I stretch the pad out on the table, awkwardly, and write on the back anyway to keep from wasting paper):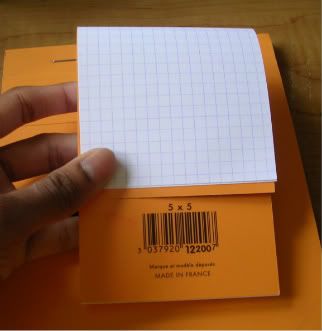 The paper is perforated on top for easy removal (unlike Red n' Black notebooks), while still being attached well enough to keep from accidentally ripping off (unlike Mead 5-star notebooks).
PAPER
The paper in this one is gridded. I believe that this is the original paper format of the Rhodia pads, since the lined one was marked as lined, while this one wasn't marked with anything at all. The lines are blue, and slightly darker than I'd like. It would be really nice if the lines were a pale grey like the Aplca notebooks are.....then it would be perfect. Oh well.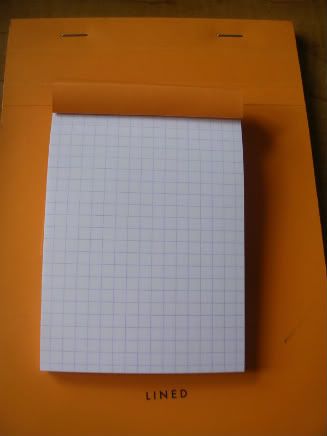 The gridded paper. The lines are definitely darker than what you see here.
The spacing between the lines, I think, is excellent. Here's a shot comparing the gridded paper to the lined one. As you can see, the spaces on the lined pad are wider than the ones on the grid, which makes sense. Check it out: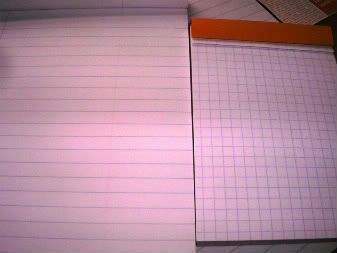 Lined VS gridded.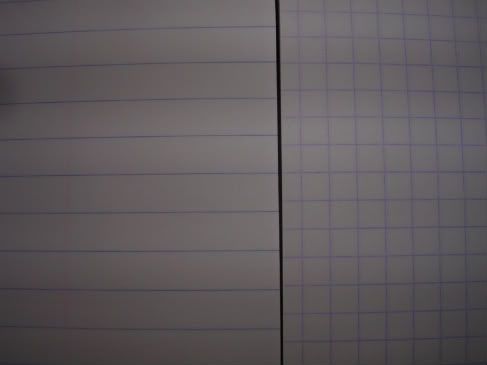 A close-up of the lined pad VS the gridded one.
I didn't bother doing a pen-ink test of the paper, since it's exactly the same caliber as the paper reviewed previously. Same exact paper, just...gridded, instead of lined. Instead,
here's a link
to the Rhodia (lined) Pad review, where you can check to see how well the paper fared against various writing instruments. To be honest, though, I think that if it can stand up to FP ink, it can probably stand up to most anything else (with the exclusion of Sharpies, naturally), since FP ink is the "problem child" of the stationary world, so far as paper compatibility is concerned (I say this with the utmost affection, of course).
PURCHASING RHODIA PADS
Rhodia pads can be found just about anywhere:
They're available at Borders bookstores;
at Pear Tree Pens
at SwisherPens
at Pendamonium
at Dick Blick
at The Daily Planner
at The Journal Store
Basically, many places that sell journals/stationary/paper are bound to have it, including your local art supply/stationary store. And you can bet that any fine writing store (whether online or brick & mortar) worth its salt will be carrying it.
CONCLUSION:
Probably the only two things that would improve these things are lighter, more subtle gridlines and some way to be able to write on both sides of the paper without turning the pad into a spiral-bound (don't ask me how, I'm no notebook engineer...). And, wouldn't an inner pocket be nice (sort of like Moleskines have) for stashing loose notes and such? I would also suggest a slightly heavier/stiffer cover since over time, the front cover will bend up like so: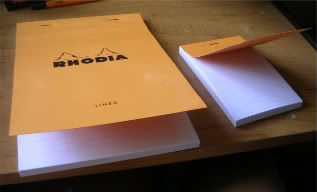 However, I'll be the first to admit that these are all minor, nitpicky points, the latter of which can be fixed with a rubber band to keep the cover snugly against the pad. These small Rhodia pads are fantastic for on-the-go sketches, notetaking, whatever. I think that these will be my on-the-go memo pads of choice, at least until I try the much-raved-about Field Notes :P
As for the larger gridded Rhodia pads, I recommend them wholeheartedly to any artist or architect who wants a good gridded pad to jot down notes/ideas. This is definitely good paper that won't rip or fall apart on you. It's a bit pricier than your average, run-of-the-mill gridded pad, but it's also a great deal better in quality.
In a nutshell, these are hands down the best gridded pads I've ever used, and I strongly feel that they are an excellent investment to make for any artist/architect who's sick of bleedthrough and wants good quality paper to work with. I will certainly be purchasing more of these in the future. Highly recommended!
:)
Upcoming:
Rhodia pencil
Diamine new Spring 2009 inks:
-Pumpkin
-Majestic Blue
-Onyx Black
-Poppy Red
-Chocolate Brown