Quo Vadis Journal 21 Daily Desk Planner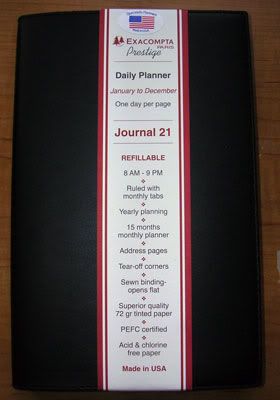 INTRO
This is my favorite one of the three Exaclair agenda planners I have received for review. Period. As the name implies, it's not travel-sized, so it's not really meant to fit in a purse or pocket. This is meant for a bookbag, briefcase, or just sitting home at your desk. The purpose of this agenda planner is to help you map out your day in detail...and it includes PLENTY of tools for you to stay organized not only throughout the current year, but for the entire next year as well. This planner was made in the U.S.A.
DESIGN
This stylish and REFILLABLE planner has a black pleather cover which you can keep even as you ditch the used planner itself for a fresh one.
There are some cool tools, such as a list of major holidays around the world and this handy chart of international telephone access codes (for all you globe trotters out there who shun BlackBerrys for paper planners).
.
Exactly like the
Quo Vadis IB Traveler
and the
Rhodia Weekly Notebook Agenda Planner
, the Journal 21 has an "anno-planning" section -- for the current year as well as the next year! In addition to this, it also has a full calendar layout for the current and forthcoming year:
Here is the actual layout of the planner: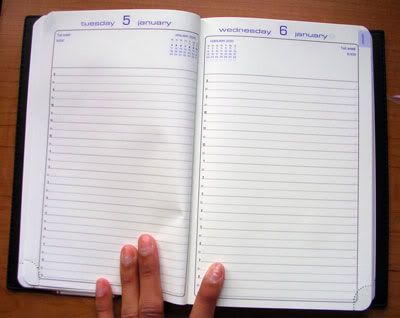 As you can see, each page is devoted to one day (with the day, date and month prominently displayed at the top).
The day is divided into half-hour segments, running from 8 AM to 9 PM.
I personally really like this aspect of it. The top of each page near the binding has the month; the week you are currently in is in bolded print. The top of each page on the outer side, on the far side from the binding, tells you how far you are into the year in terms of week and day (eg, for Tuesday May 11: 19th week, 131-234).
The different months are "tabbed" by blue swatches that you can see from the side, when the book is closed. This makes it easy to find different months:
Another feature the Journal 21 shares with its cousins the Quo Vadis IB Traveler and Rhodia Weekly Agenda is the contact info section in the back -- 14 pages for you to fit all your contacts.
It's no contortionist, but it's flexible enough yet sturdy enough to withstand being tossed in and out of a bookbag or briefcase, and can stand being squished due to its pliability. At the same time, it's thick enough that I can put it on my lap and write. To me, it's just the right combination of flexible and sturdy.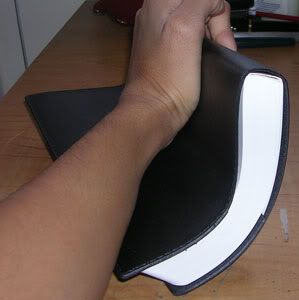 Another design feature which I really like is the tear-off tab on the bottom of each page, so you can find your place easily as you progress through the year. I love this simple but efficient feature (it's the little things).
Comparison shot. Left to right: Journal 21, IB Traveler, and Rhodia Weekly
PAPER
All the paper in this wonderful planner is FP-friendly. See for yourself: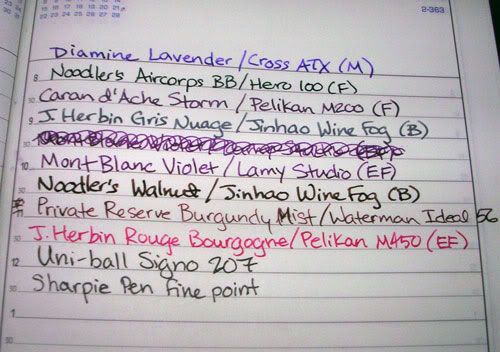 No feathering, some shading, but zero bleedthrough.
The paper itself is smooth, just slightly off-white so that it's easy on the eyes, and really nice to write on.
PURCHASING THE JOURNAL 21
An Exaclair product, this planner can be found wherever Exaclair agenda items are sold. Some websites include
The Daily Planner
, or even the
Quo Vadis Web site
. You could also go to
Writer's Bloc
.
I have no affiliation with any of these stores, of course. I'm just listing them as viable options from which to purchase the Journal 21.
CONCLUSION
My conclusion: I freaking love this thing. No, seriously. This is my favorite of the planners I've reviewed, and it has been my loyal companion throughout the school year, helping me to stay organized. For me, this is a perfect planner: highly FP-friendly, divides the day into very small segments for exact planning, and a lot of room with which to do said planning. Those are the three things I look for, and the Journal 21 nailed them all. Plus, it looks really great and is very durable.
Come next year, I will definitely be purchasing a refill! If you're anything like me and the above points look attractive to you, go ahead and make the plunge; buy this planner. You won't regret it.