INTRO
I was pleasantly surprised by this notebook. Like the Staples sugarcane bagasse paper, the O'bon notebooks are made from the waste pulp of sugarcane after it's been crushed for juice. Now, how does this notebook stand up to its cheaper Staples counterpart?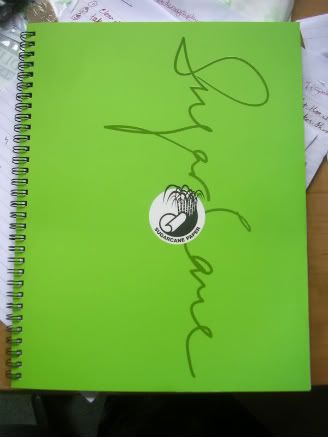 CONSTRUCTION
The notebook comes in a variety of cover designs; I happened to get the signature green one. On the back cover is a paragraph explaining what sugarcane paper is, and why one should opt for it instead of regular paper (saves trees, duh).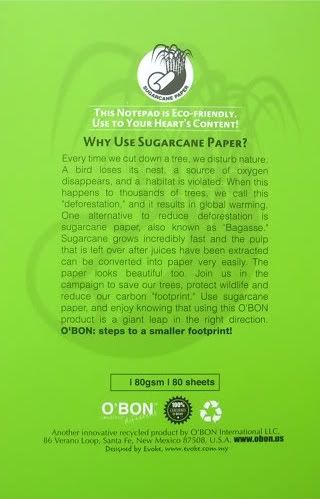 The notebook is wire-bound, but unlike most other wire-bound notebooks, this one has a double loop of wire, so it won't get easily twisted and warped while in your backpack. Goodness knows that's a huge gripe I have about most wire-bounds.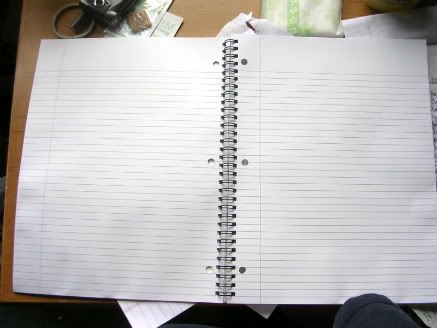 The lines look weird in this photo, at least on my monitor; IRL, the lines are very clear.
There are 80 sheets of paper per notebook. Sadly they are not perforated...ah well. Not a big deal.
One interesting thing is that the lines inside the notebook are actually black (instead of, say, blue or grey). Oh, and the pages are college-ruled, not wide-ruled. Hooray! I'm always dismayed when great notebooks/journals have big wide lines, so I was happy to see that the lines in this notebook are nice and thin :D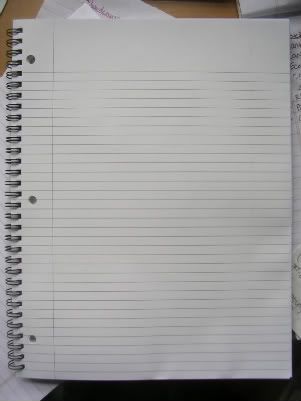 PAPER
So, how does it fare with various different pens?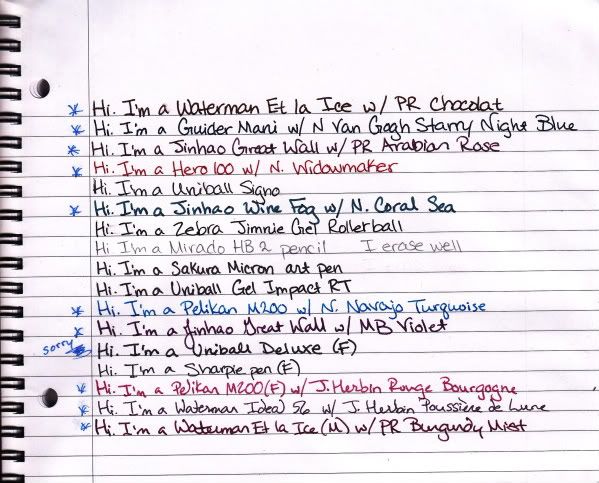 I tried out my Pelikan M200 once with Noodler's Navajo Turquoise and again with J. Herbin's Rouge Bourgogne. The RB displayed a bit more feathering than the NT. This plus the fact that the Poussiere de Lune from my vintage Waterman 56 feathered a lot leads me to conclude that J. Herbin inks (which have feathery tendencies) are not the best choice for this paper. Private Reserve inks, on the other hand, seem to fare very well. Noodler's displays moderate feathering, and my MontBlanc Violet was surprisingly well behaved. So, I'd suggest Private Reserve as the best choice for this paper. Not that there's a particularly
bad
choice for this paper; even though there is feathering, it's
so slight
that you have to really look hard to notice it! Even with wetter nibs. What remarkably resilient paper :D
It's odd; the scanner made it look as though there's
far
more prominent shading than there actually is. In reality, cut the shading down by 30% or so. It's there, it's noticeable, but it's not glaring. Anyway, on the back we see that there's shading but extremely little bleedthrough. The J. Herbin bled a bit (especially coming from my Pelikan, which is a wet writer), and the MontBlanc did too (though again, I was using a wet nib). Other than that, there was a moderate amount of shading. Not as much as the Staples paper, but fairly noticeable.
The blue astericks indicate which lines have been written with fountain pen ink, both front and back, so I could easily judge how FP ink fared overall as compared to other inks.
PURCHASING O'BON NOTEBOOKS
O'bon notebooks can be purchased at -- gasp! -- the O'bon website, which is:
www.myobon.com
Check out some of the other cool goodies O'bon offers, as well =)
CONCLUSION
O'bon paper is some of the best recycled paper I've tried. With the majority of pen/ink combinations, there's no feathering or shading, and like I said -- the feathering/shading that DOES occur is very, very slight.
Thus, I find myself liking this notebook more and more. It has thicker pages than the average notebook and it takes fountain pen ink remarkably well. If you're hunting for school supplies ('tis the season, after all) I definitely recommend the O'bon line of sugarcane tree-free notebooks!
EDIT: I was asked how O'bon fared against Staples bagasse paper, and which I preferred. That's an excellent question. My response is: Both are excellent papers, BUT the Staples bagasse takes fountain pen ink better than the O'bon does. The Staples bagasse is more tolerant of feathery inks. In addition, the O'bon notebook paper is toothy, whereas Staples bagasse paper is much smoother. So, for me personally, I would choose Staples bagasse over O'bon.
However, coming from a dryer nib -- for instance, my Pelikan extra fine nib -- even J. Herbin inks behave on this paper. So if you write with dryer pens and like toothier paper, this is the stuff for you.
Thanks for asking!