INTRO
Eco-friendly art supplies? Yes, PLEASE!
O'bon
is a company who brings us school supplies -- notebooks, pencils, erasers, journals, the works -- made of tree-free, recycled materials. How cool is that? As an artsy tree-hugger, this excites me to no end. O'bon was kind enough to mail me some of their supplies for reviewing -- and for the next couple of weeks, I will be doing exactly that. Whoohoo!
Today's agenda:
O'BONanza Series -- Color Pencil Set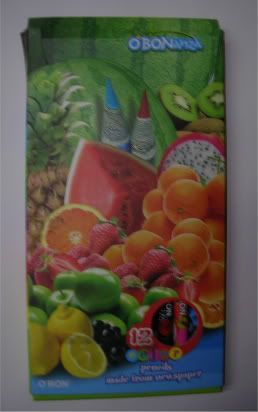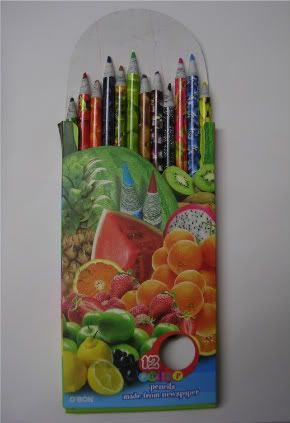 COLOR SWATCH:
CONSTRUCTION
This fun colored pencil set discards normal color names in favor of fruits. The set contains:
Pineapple (light brown)
Kiwifruit (dark brown)
Strawberry (red)
Orange (orange, duh)
Banana (yellow)
Apple (green)
Watermelon (dark green)
Blueberry (light blue)
Grape (dark blue)
Mangosteen (purple)
Dragon Fruit (pink)
Raspberry (black...aren't BLACKberries the black ones? :P)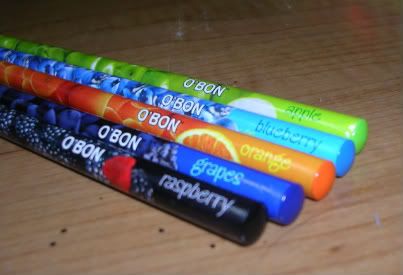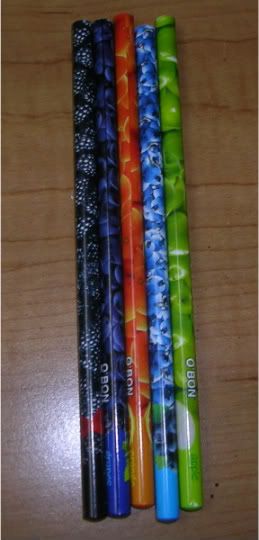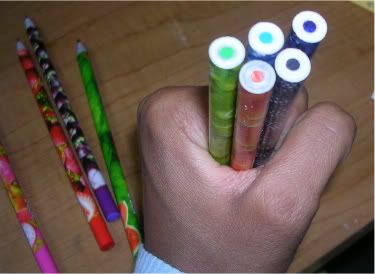 The barrel is made of 100% recycled newspaper (read more
here
, which you can see as you sharpen them: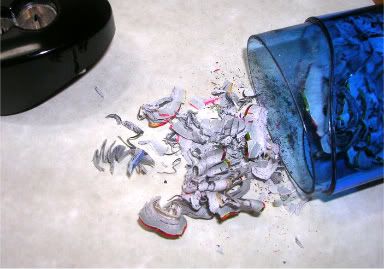 A major flaw: Some of these pencils are
not
sharpener-friendly. Some of them sharpen just fine, whereas others are absolutely horrendous. It's a really odd inconsistency. I have a very good sharpener (iridium, made in Germany, all that), and some of the colors simply won't sharpen properly. This can be extremely annoying, especially because the lead is very soft and breaks easily when you
do
manage to get a point, and before you know it you've sharpened your colored pencil down by 2 inches on the first day. Since details -- and thus well-sharpened pencils with sharp points -- are important to me, this was extremely disappointing. The tightly-rolled newspaper may provide superior core protection to the lead (according to the O'bon website), but it sure does a lousy sharpening job. If anyone has better luck, feel free to let me know :P
THE LEAD
So, how do they work?
Let's see :)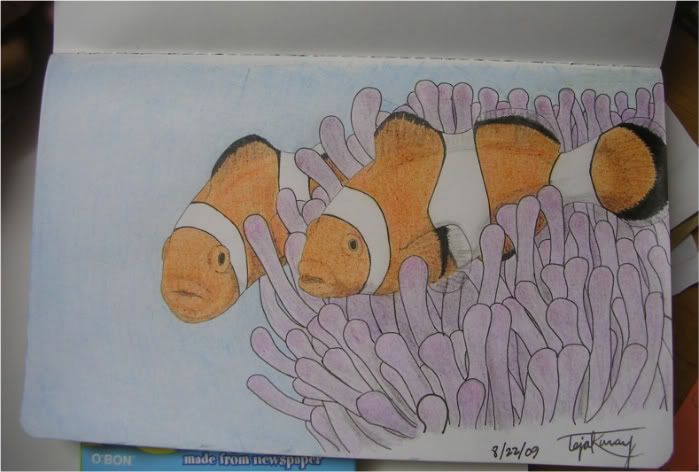 As we can see, for the most part the colors blend together fairly well....EXCEPT the dark brown. I don't know what it is about the dark brown, but it doesn't seem to want to play nice with the other colors...at least on the Lamali Lokta. Oddly enough, it performed quite a bit better on standard Strathmore Sketch 300 series drawing paper, blending normally into the other colored pencils. So there's a discrepancy in blending characteristics, apparently, depending on the paper one uses. Hmm. It
appears
to do better on toothier paper (like aforementioned Strathmore), but take that with a grain of salt as I haven't tested it out on very many papers (only 3 -- two smooth, one toothy).
Overall, the colors blended a lot smoother on the Strathmore than they did on the Lamali Lokta.
As far as color goes, the black is not nearly as dark as I'd like it to be.
PURCHASING O'BONANAZA COLOR PENCIL SET
The O'BONanaza Color Pencil Set can be purchased from the O'bon website:
www.myobon.com
The pencils normally cost $5, but are on sale for $4. I'm not sure how long that sale is going to last, though, so if you're thinking about snagging a set, now is a good time.
O'bon is also looking for folks to review their products, so if you're interested in that, contact them -- there's information on their web site.
CONCLUSION
While the
idea
of these pencils is simply wonderful to me (recycled, tree-free, art stuff, yadda yadda), I simply can't warm up that much to a set of colored pencils which are picky about paper and snooty about sharpening. For the price of $5, they perform okay -- though don't feel like you're the only one if you're left feeling like you didn't get enough bang for your buck. They're not fantastic, they're not the best, but they're good enough for what they were intended for (basically, the occasional school color project). If you want to purchase environmentally friendly colored pencils for your young, non-arts-inclined child/sibling/whathaveyou, go ahead and pick up a set. For all serious artists of any and all ages -- look elsewhere.