I've been looking forward to doing this review, as I really do enjoy this paper. As always, hope that this is useful. Enjoy!
Crane & Co.'s 100% cotton paper is currently my favorite stationary paper to use for writing letters (I like to pair it with one of Crane's equally high quality wasabi green or celadon blue envelopes, which I then seal with wax before mailing off to a snail mail buddy).
The paper combines two very important elements for me: It's environmentally friendly, being
made of cotton waste instead of trees
; and the quality of the paper is excellent. There's a reason Crane & Co. is a highly preferred brand among fountain pen users, and that is what we will explore today.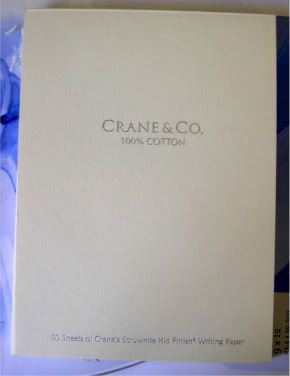 Each pad comes with 50 removable, high-quality sheets. The pad is gummed on top.
THE PAPER
The paper is a bit more cream-colored than the photo shows, but not by much. It's a very soothing ivory-cream color which is easy on the eyes, as opposed to glaring white -- however, this stationary also comes in pure white if you prefer that.
The measurements of the sheets are 6 3/8 x 8 1/2 inches.
This paper is not smooth like Clairefontaine or Rhodia paper is; it's textured, so there is some feedback when writing. Though I usually like to write on smooth papers, I must say that I enjoy the texture of this stationary: It feels nice under your fingers, a nice subtle texture that gives the paper elegance and character.
If you are a paper junkie, like me, you'll be able to understand/appreciate what I'm talking about; if you're not, I probably sound like a crazy person to you. Heh.
EDIT:
A number of fine folk over on
The Fountain Pen Network
have pointed out that very fine nibs may get "caught" on the paper when writing. I'm assuming that this refers to fine nibs with dry flows only, as I've used wet fines and extra-fines and had no problems whatsoever :) You can see the thread
here
. Thanks to everyone who commented for your input!
THE INK TEST
So let's get to the good stuff, already. Check it out:
Beautiful. Not a hint of feathering anywhere at all, even with feathery inks like J. Herbin -- which is fantastic, because I can use my beloved J. Herbin Rouge Bourgogne ink (reviewed
here
) on this paper without it feathering like mad. Hooray!
Something to note, however: Though Crane's letter writing sheets are indeed fantastic on the front side, the back side of the paper is of slightly lower quality. Meaning, certain inks or wet-nibbed pens may feather slightly.
No matter what side you write on, however, the paper is adequately thick to ensure practically zero chance of bleedthrough.
PURCHASING CRANE & CO. ECRUWHITE KID FINISH LETTER SHEETS
This wonderful paper can be purchased at the
Crane & Co. website
, and any retailer that sells Crane & Co. products.
On the Crane website it is listed as costing $13 per pad (which come with 50 sheets).
CONCLUSION
The combination of high quality and eco-friendliness (more so the latter than the former, truth be told...I'm such a hippie...) makes me want to keep restocking on these once I run out. Unless I find some paper that is lower in cost but that matches this in terms of quality, this will be my go-to paper for letterwriting. Highly recommended.
Speaking of, you know what else this paper takes well? Besides fountain pen inks?
Watercolor.
Done very lightly of course, but that's still impressive. And why would I bring this up?
Well, stay tuned to find out!