INTRO
Apica has (currently) got to be, hands down, my favorite notebook brand. Ever. This Japanese notebook has helped me -- a diehard spiral-bound user -- to not only appreciate non-spiral notebooks, but even prefer them in some cases! As you'll see later in the review, the Japanese have somehow managed to streamline a notebook. Super affordable, lightweight, excellent smooth paper....what's not to like?
FRONT



BACK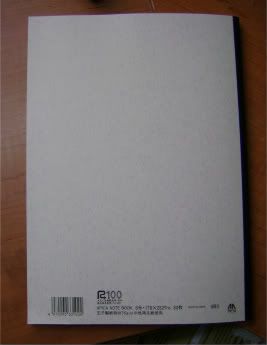 CONSTRUCTION
Well...the floppiness of Apicas may detract a few. These things are meant to be rolled up and stuffed into your back pocket as you run to class. This is the most flexible notebook I own.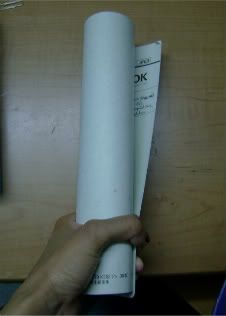 See?

I admit that I was a bit dubious at first, given my preference for sturdy spiral-bounds. However, they're tougher than they look, and unless you play floor hockey with your notebooks, your Apica will definitely hold up to daily use.

PAPER
Open view: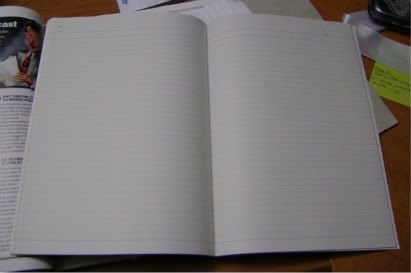 How big is it really? Size comparison: 7" X 10" Apica with "king-size" Kit Kat bar.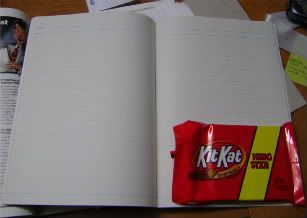 The pages! Here's where a notebook really shows what it's made of (literally). Apica paper is not only wonderfully smooth, but the soft off-white color and subtle gray lines are not as harsh on the eyes as pure white and blue, something else that I like. The paper is certainly thinner than, say Clairefontaine or Red n' Black notebook paper, but it still feels substantial between your fingers, not the kind that will easily rip (by accident). Apica paper also takes many different inks astoundingly well, with absolutely zero feathering with 90% pen-ink combos. The only feathering I've ever had was with a very wet nib and very flowy ink (Cross Century II (M) with Noodler's Galileo Brown), and even then, the feathering was negligible.
But, what about shading, you ask? Observe: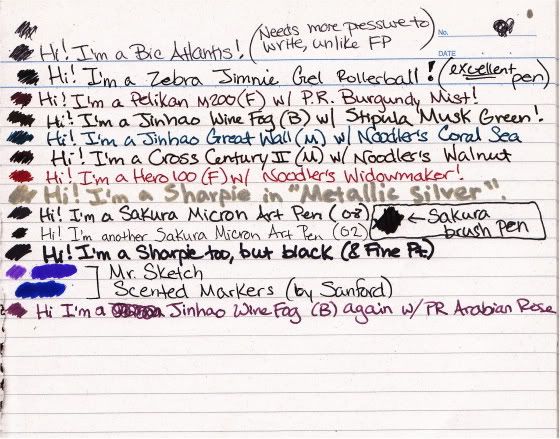 And now the back--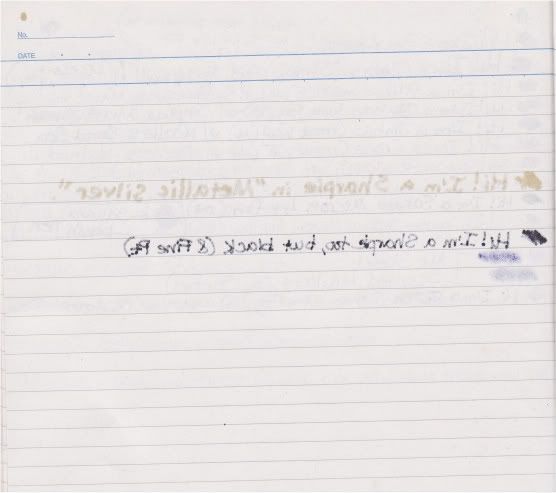 Wow! Look at that. Practically zero bleedthrough and very slight shading, if that. The only bleedthrough was, predictably enough, from the Sharpie and huge markers. And since you're not going to be using a Sharpie or thick scented markers for daily writing anyway (right?), it's a moot point :)
It's also silky smooth to write (or draw) on with regular pencils--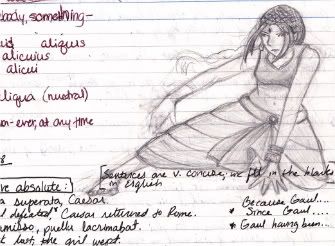 (I doodle in class...in case you couldn't guess)

At the top of each page is a header: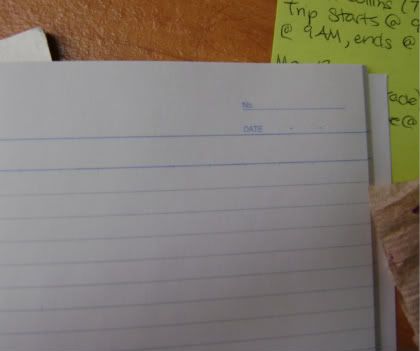 Now, some might be wary of the fact that not only are Apicas smaller, they aren't as thick and stuffed with pages as regular American notebooks*. However, Apica's got some great things going for it to make up for that. Not only are the lines on Apica spaced very closely together (they are slightly thinner than American college-ruled), but Apicas don't have that ridiculous side margin that American notebooks have. This frees up a lot more room for you to write in. It may not seem like a lot of extra space, but you'd be surprised at how much extra you can fit on a page. In addition, the header margin is a great deal thinner.
Given the much narrower rulings and header (not to mention, complete lack of side margin), I'd say that Apicas can fit just as much information as regular American notebooks, in less space (if not more!!). Is it possible to streamline a notebook? Because if so, the Japanese have managed to streamline a notebook. (Taking into consideration just how insanely awesome the Japanese are at making...well....anything...I suppose it was only a matter of time.)

*That's not to say that Apicas have substantially fewer pages; they have 60-80 sheets per notebook, on average, which is about the same as lower-end American notebooks.

PURCHASING APICAS
I got mine from Asian Food Grocer, but there are a few other vendors that sell them, as well.

-JetPens only sells in bulk as of now, but if you're buying for school, hey, why not? (Plus, free shipping for purchases $25 and up. Beautiful.)

-The Daily Planner sells Apicas singularly, if you don't care for bulk.

-Asian Food Grocer also sells them singularly if you only want a handful.

-An ebay seller "taylorintherockies" also sells them, and from what I've heard she's a very reliable seller. I believe she sells in both bulk and single notebooks.

If you enter any of these vendors into an Internet search engine, you should find them easily.

CONCLUSION
Apica notebooks come in a variety of different sizes, and this combined with their flexibility makes them highly transportable. I kind of wish they had an inner pocket to hold loose papers in; I don't think it would sacrifice too much flexibility to do so. Too bad.
Of course, the thinner rulings might not be everyone's cup of tea. I personally prefer thin lines, as I like to write small and fit as much onto the paper as possible. But for people on the go, students with way too many textbooks to lug around, or anyone really...if you like/don't mind writing small, the Apica is a great notebook choice. I haven't found another notebook of this quality for the price. Highly recommended!